This association was founded in September 2013 with various companies, universities and public research institutes coming together for the sole purpose of creating manufacturing technology to produce next-generation biopharmaceuticals that meet international standards.
We've been launched and been working the project on "Research and development of new technologies on large scale production of viral vectors for gene and therapy" from FY2018, and also on the new 5-year project of "Developing key technology for discovering and manufacturing drugs for next-generation treatment and diagnosis" from FY2021, both projects are implementing under AMED.
As before, we will further develop various original technologies at companies in addition to fundamental research at universities and public research institutions, whilst we integrate these technologies to create world class biopharmaceutical production technology.
Our members are 36 companies, 5 universities (Kobe Univ., Kyushu Univ., Osaka Univ., Tokushima Univ., Yamaguchi Univ.), National Center for Child Health and Development, National Institute of Advanced Industrial Science and Technology, Japan Bioindustry Association, The Research Foundation for Microbial Diseases of Osaka University, Biologics Center for Research and Training. In addition to aforementioned universities, many other universities have gathered as partners. With all these members, we are actively collaboration efforts that unite the industry, government and academia.
Our mission is to contribute to pharmaceutical manufacturing business which helps patients and their families in difficult times. This can be achieved by organically accumulating Japanese excellent manufacturing skills and completing robust bio-pharmaceutical manufacturing technology aimed at practical use.
This requires close collaboration with industry, government and academia and cannot be achieved without the support of pharmaceutical industry.
I appreciate your continued support from every aspects.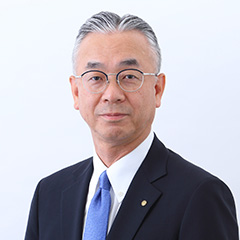 Representative Director
Koichi Nakao